Calling all L&D and corporate training professionals! Do not miss Asia's premier conference
on learning, training and corporate development strategy, Training & Development Asia.
In Hong Kong, Kuala Lumpur and Singapore in June 2016 – Register Now »
Some people just aren't employee material. As a manager you really shouldn't have any qualms about getting rid of those who disrupt what you are trying to accomplish.
Taskworld identified seven such employee types who managers should not hesitate in showing the door.
First up are the usual suspects – those who steal, won't do their job, show up inappropriately dresses, or the no brainer. All people you don't need to keep on for any reason.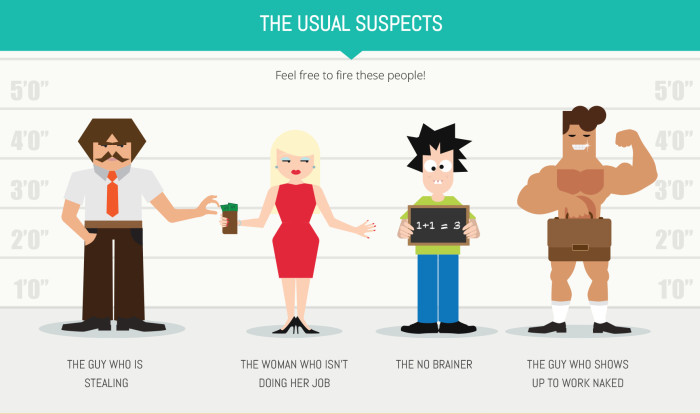 Second in line are the kings of ethics – who always have a complaint or two ready for others, without a comment on their own productivity.
Third in tow are the office babies, that is, those employees who are insecure and will go to all lengths to hide their failings.
The fourth are the aptly-named joy sponge – those who have the uncanny ability to soak in the joy in any situation, and prioritise looking at the negative in any situation.
Fifth in this list are the proverbial know-it-alls – those who never fail to remind others of the impossible task at hand, but seldom come up with a solution or the right approach.
The yes-man comes out sixth on this list, the one who seems to think every idea you give is flawless – don't turn to them when you need honest advice.
Finally, and perhaps the most serious case for firing, is for those who refuse to change – despite getting feedback on their negative attitude or behaviour.
What do you think of this list – any more employee types to add to the list?
Lead image: Shutterstock
Have you done anything impressive in the area of recruitment and talent acquisition?
Of course you have. Don't keep it a secret, enter it into the Asia Recruitment Awards! Position your company as an employer of choice at the Asia Recruitment Awards – entries close soon!
Looking for Human Resource Information System ? Then you are at the right place. Make the switch today with our Human Resource Software for Malaysia called eP2P Application. It is fully responsive on any devices and native apps HR Mobile ready. Contact Us today.
Powered by http://hrsc.my