Calling all L&D and corporate training professionals! Do not miss Asia's premier conference
on learning, training and corporate development strategy, Training & Development Asia.
In Hong Kong, Kuala Lumpur and Singapore in June 2016 – Register Now »
Established in Singapore in 2003, Acronis is led by CEO Serguei Beloussov. A Singaporean national for the past 20 years, he moved to the Lion City in 1995 after graduating from university.
This data protection organisation has 18 offices around the world and an R&D centre in Singapore. But what is the company's secret to success in one of the most competitive IT sector segments?
Germaine Chow, senior HR business partner at Acronis, sheds some light on the company's culture and how its 700 employees scattered around the world feel like one family.
"It is consistent branding, a culture of innovation, strong leadership, and a sense of purpose, that we are part of something big."
She describes the workplace: "Our offices have 'Acronis Blue' colour scheme, strong branding and a life-size cardboard cut-out figure of our CEO Serguei Beloussov greeting people as they enter the office.
"Obviously Serguei can't be present in person everywhere at the same time, but this cardboard figure creates a fun environment and reminds us of the company goals, towards which we are all working together as a team.
What's more, Beloussov's cut-out has proved to be a popular photo spot with visitors, which helps with the brand promotion.
Acronis encourages dialogue and interaction by complementing an open plan workspace with cosy hideouts for formal meetings or informal coffee breaks.
There is also a spacious kitchen to keep hungry stomachs at bay and a never ending flow of refreshments to help people get through their day.
Wide glass panels, plenty of natural light, and the level-30 view create a peaceful and productive environment and improve employee satisfaction.
This approach has also been applied to Acronis R&D centre, which is moving towards becoming one of the largest software research facilities in the region, looking to host 120-150 engineers.
The centre's environment has been designed to promote innovation and communication among software engineers, who are working on environmentally-friendly data centre solutions.
For the centre, Acronis welcomes local engineers and university interns, with a view to nurture them to become senior engineers and managers.
Chow goes on to cite the impact of this open workspace on culture: "An innovative and interactive workplace allows staff to switch on their creativity, generate ideas, and share suggestions with one another and with management.
"The combined intellect of the company's people manifest through special charisma, which flows into a positive cycle — the more ideas the management implements, the more ideas the employees are willing to contribute.
"In this respect, Acronis has a listening and engaging culture, which forms an integral part of our staff retention strategy."
For companies that are planning on decorating their offices, Acronis' advice: "Keep it simple, in-line with the company colours, and with elements of surprise."
"A cut-out figure of our CEO at the entrance, a gigantic letter 'A' (Acronis logo) for the boardroom table, wide isles, chill out spaces, and natural lighting created a vibrant environment in the Acronis headquarters."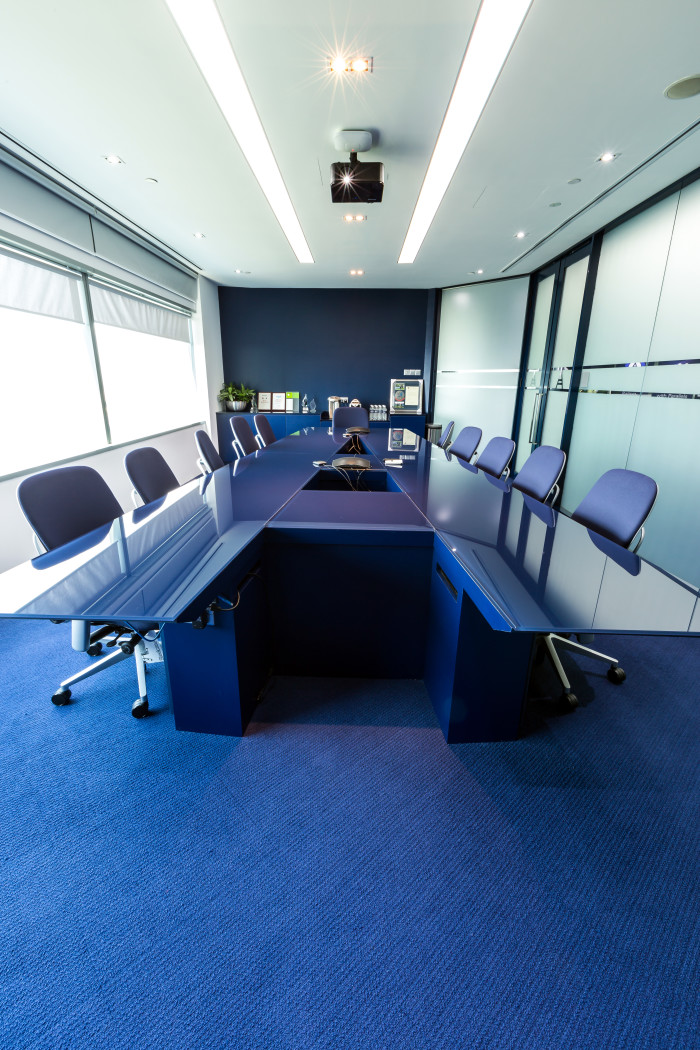 She adds: "Have a recreational area where staff can engage in fun activities during their free time. Your workplace is your second family. Making your staff comfortable benefits the entire company."
More photos from the Acronis office:
Images: Provided
Looking for Human Resource Information System ? Then you are at the right place. Make the switch today with our Human Resource Software for Malaysia called eP2P Application. It is fully responsive on any devices and native apps HR Mobile ready. Contact Us today.
Powered by http://hrsc.my